Knowledge Base Help Center
Changing the Name That Appears on Certificates
You will receive a certificate of completion after you complete most courses on aptLearn, except the course Instructor wish otherwise. This article answers the frequently asked questions on course certification, how to download your Certificate and how to correct any errors in the name on your Certificate of completion.
How can I download my Certificate?
When all the curriculum items of a course have been completed, you will get a notification indicating that the Certificate of completion is ready. This means you must have Completed All quizzes and passed, including but not limited to assignments and lessons. You must also Mark each lesson as completed, and must have read, studied, and understood the context of the lesson's module.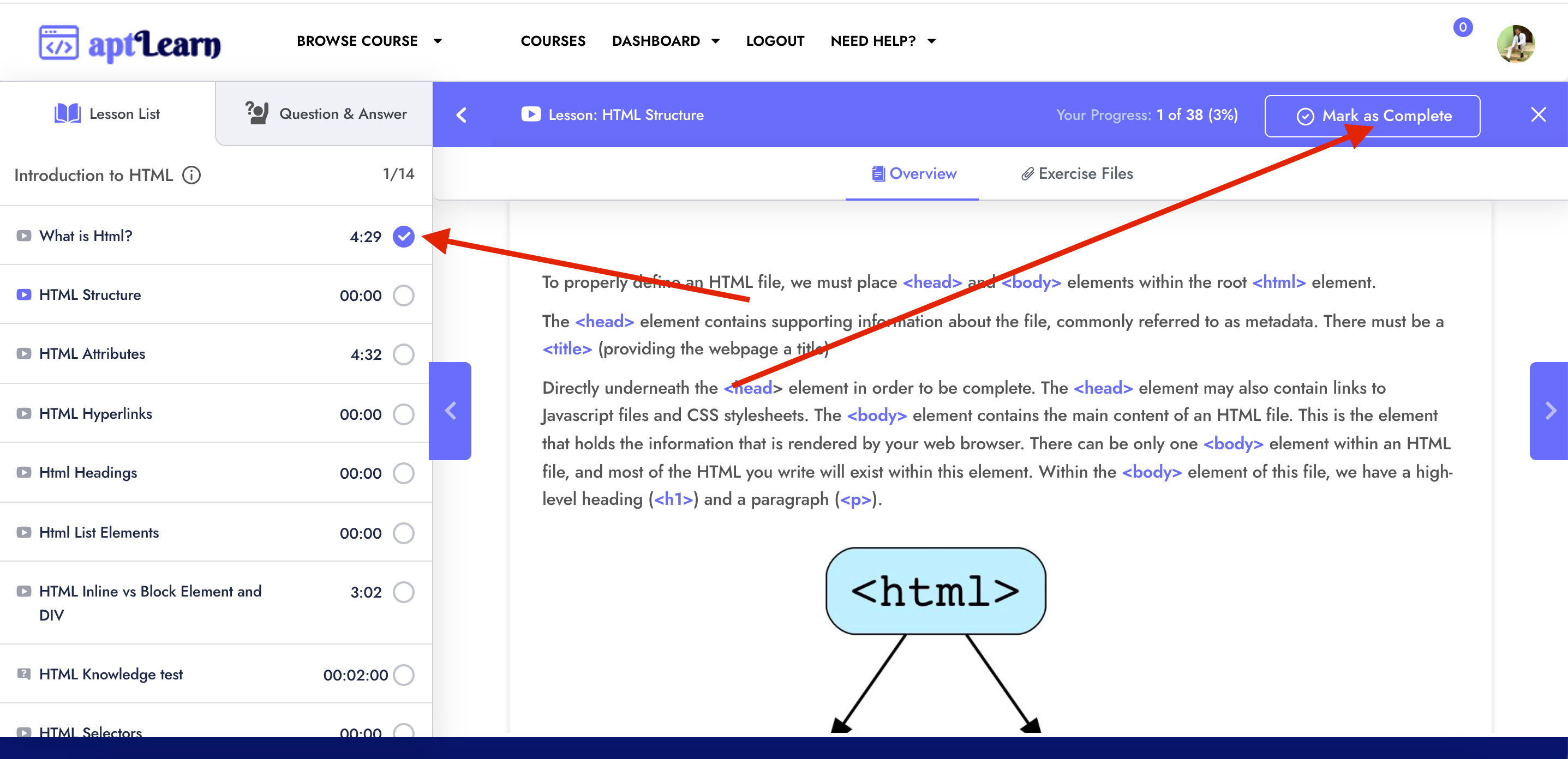 Do I need to complete the lectures in order? 
No. All you have to do to generate your Certificate of completion is to ensure that all the lectures and course items are marked as complete.
I finished my course, but I still can't access my Certificate of completion. How come?
In order to receive your Certificate of completion, each curriculum item must be marked as complete. Double-check the course curriculum in the course player to make sure each lecture and course item has a checkmark beside it and is marked as complete, as shown below.
Occasionally the system may need a few moments to generate a certificate of completion after a course has been completed. Wait a couple of minutes.
You may also need to refresh the page, or clear your cache and cookies, in order to see your certificate.
It is important to note that although all paid courses offer certificates of completion, some free courses do not offer a certificate of completion.
What can I do with my Certificate?
You can share with your friends, families, coworkers, and potential employers! The certificates of completion help demonstrate your accomplishments. You can also add it to your LinkedIn and resume.
I need to change the name or language on my Certificate of completion. How can I?
Certificates of completion are automatically generated using whatever username you entered when you created your aptLearn account. If you need to change the name on the Certificate, please follow the steps below:
Navigate to Settings on the Dashboard as shown below.


Next, update your First Name and Last Name to reflect the names you want to appear on your Certificate.
Scroll down and click Update Profile.

After you update your profile, the system automatically generates available names, scroll down to Display publicly as: and select your preferred display name.
Note that if the only name you see after updating your profile and full name is your username, Kindly refresh the page to see list of available names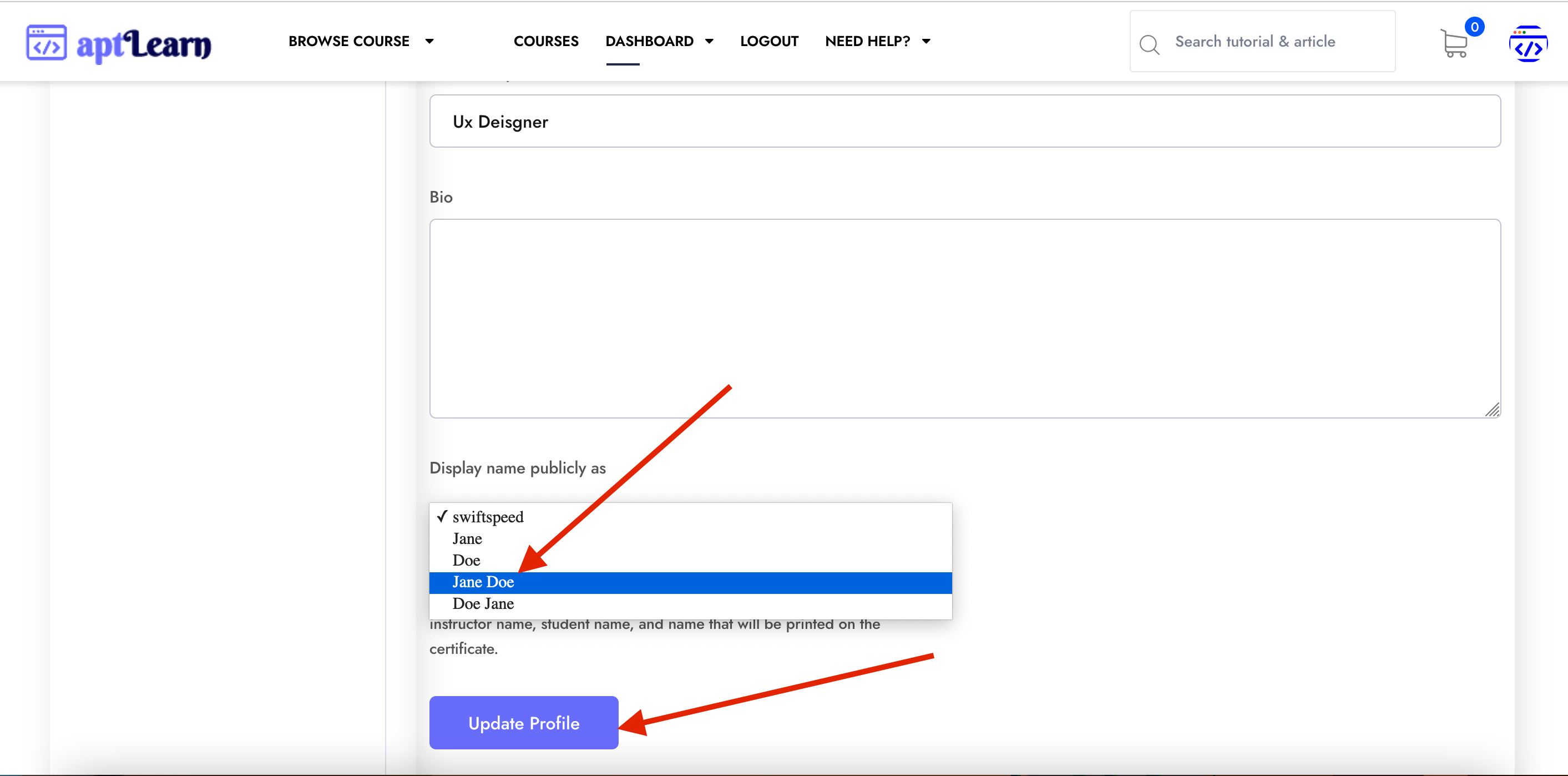 Step 3: Now you will have two options, "Retake This Course" or "Complete Course". Click on Complete Course. Immediately after you clicked "Complete Course" a congratulatory email will be sent to you on your course completion and a link to download your certificate.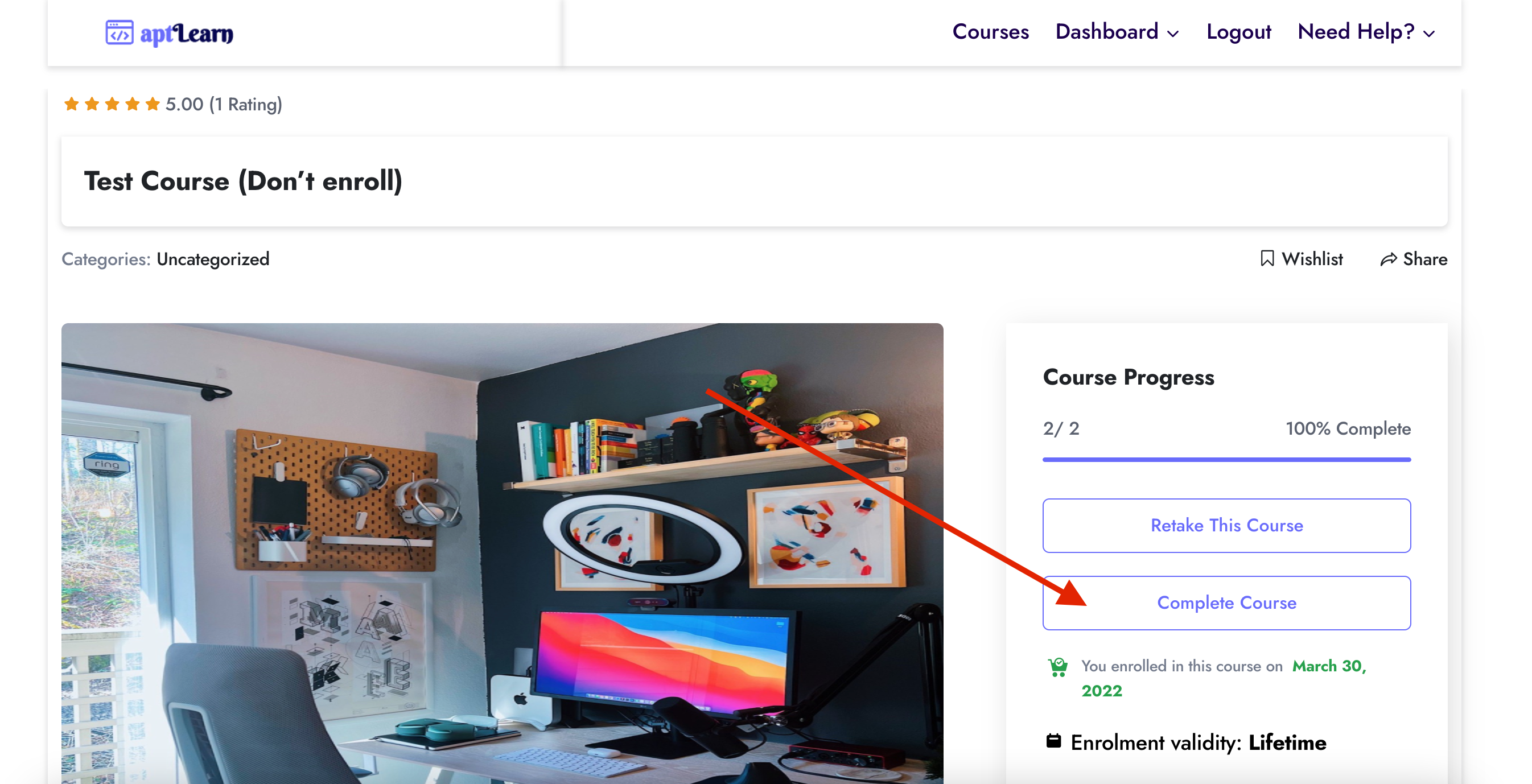 Step 4: You can use this link to download your certificate in either JPG format or PDF format. For best quality, we always recommend PDF format. Keep reading if you are here because the link sent to your email does not work.
Generate Certificate then proceeds to generate your Certificate of completion by going to the course page and then clicking on View Certificate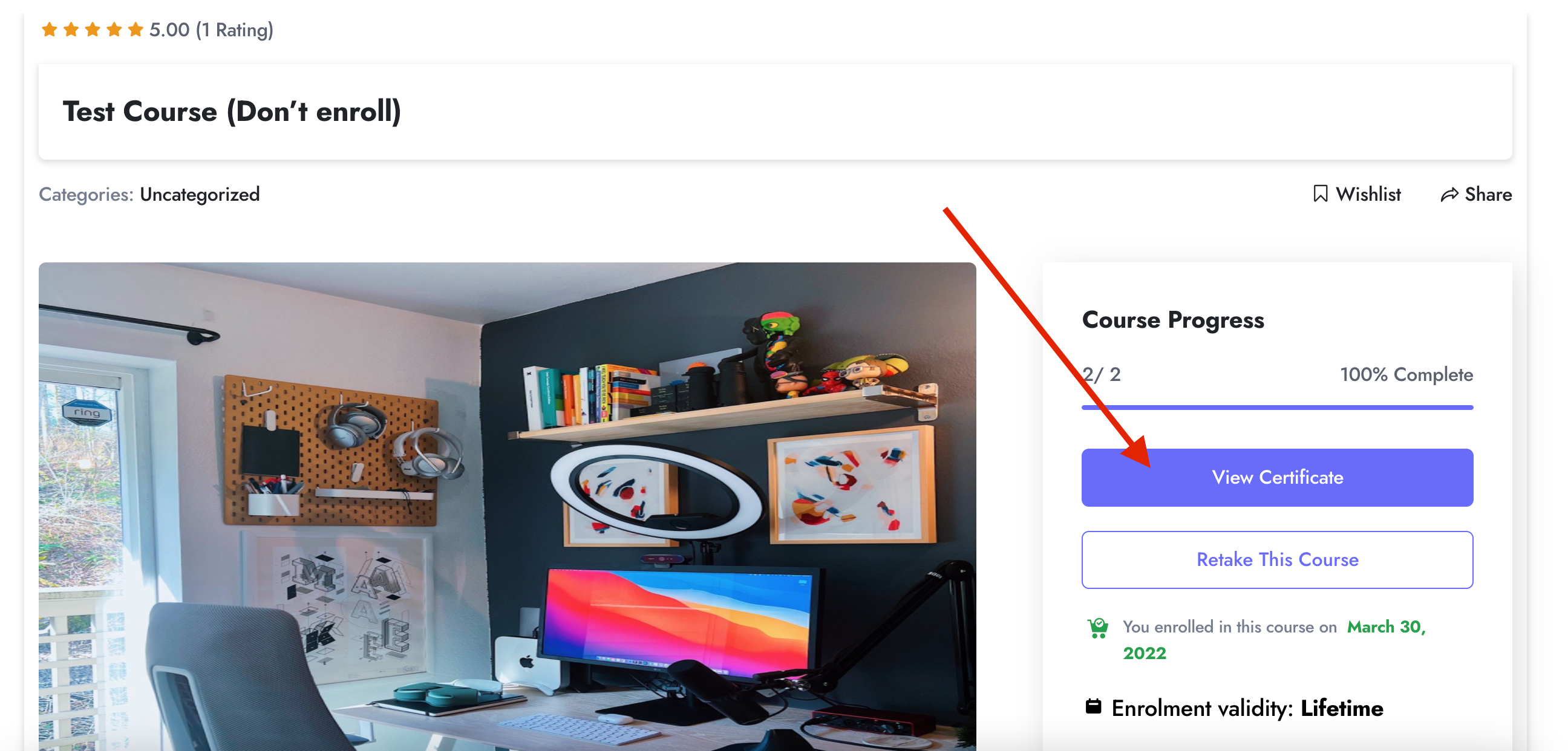 Step 6: The page below will display a loading icon to indicate your certificate is generating. This may refresh your browser to remove cache up to 5 times. and Then your certificate will be displayed.

Step 7: If after the browser has refreshed up to 5 times and you see something like a corrupted image file or nothing is showing at all or the refresh seems endless, Click the button below and select what version you'd like to download your certificate in. This will force cache clearing and generate your certificate straight away.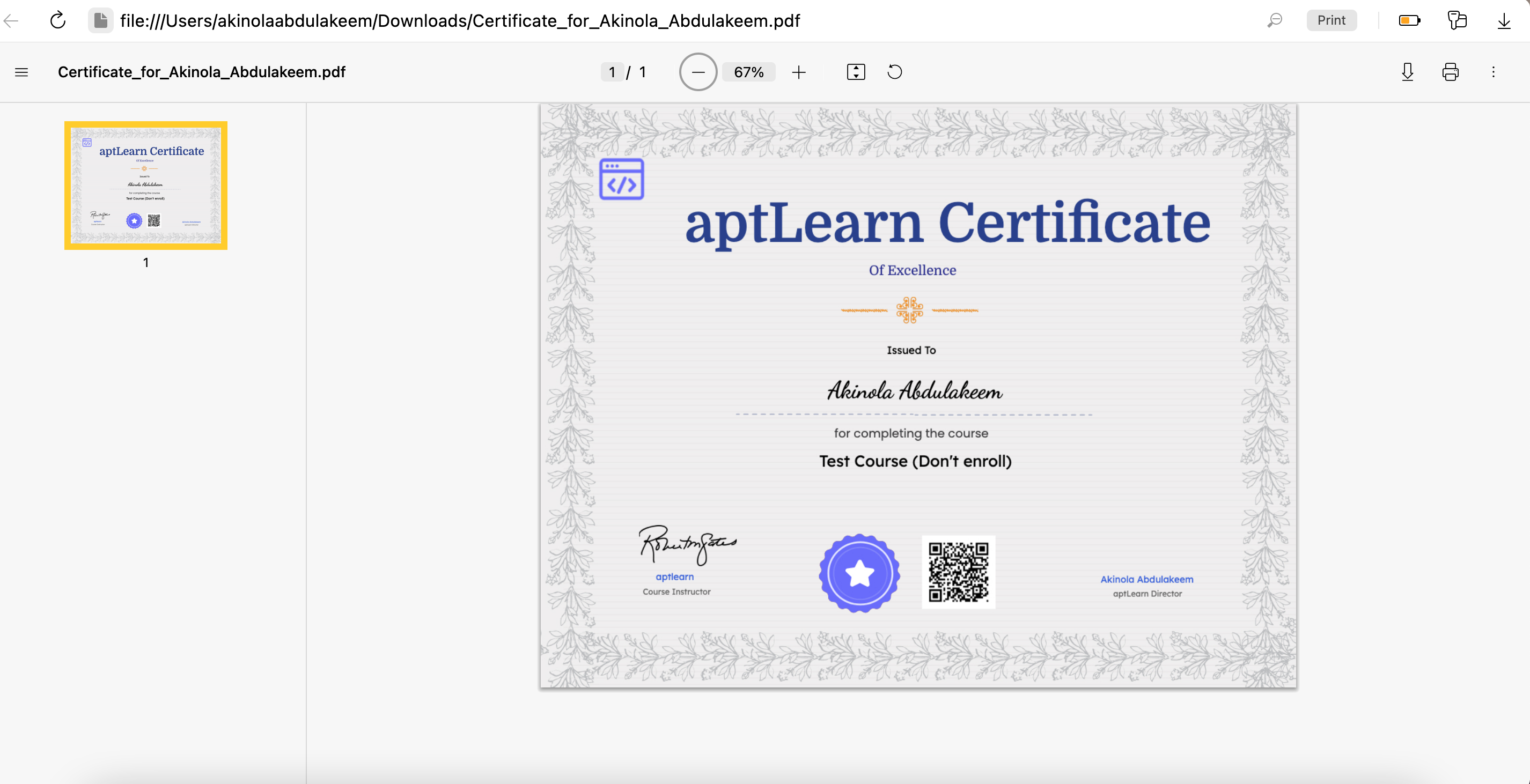 If you wish to learn how to generate a certificate for a course, please follow this guide.
The name on your certificate still didn't change? No problem, the cache in your browser has refused to clear, Go back to the course home and click "Retake This Course"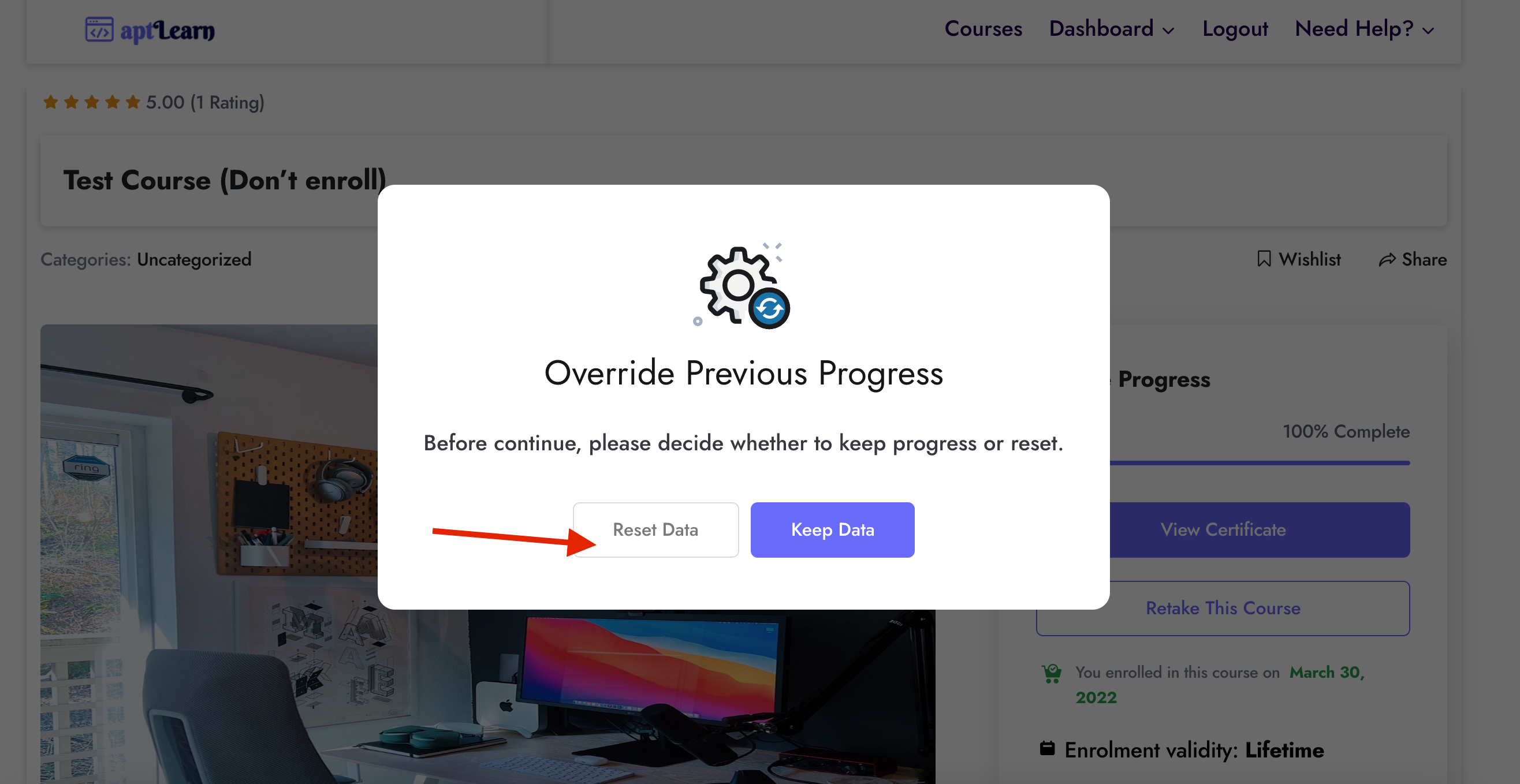 Select reset Data and Mark all the courses lessons as completed. Since you've taken the course before you do not have to go through them again. Just mark them as completed and generate your certificate with this guide.