Introducing The aptLearn Mobile App
Learning Is Possible Anytime And Anywhere
Designed to close the professional skills gap and provide universal access to tech learning, we're excited to announce that you can now acquire in-demand skills with us from your mobile phone using the aptLearn Mobile App.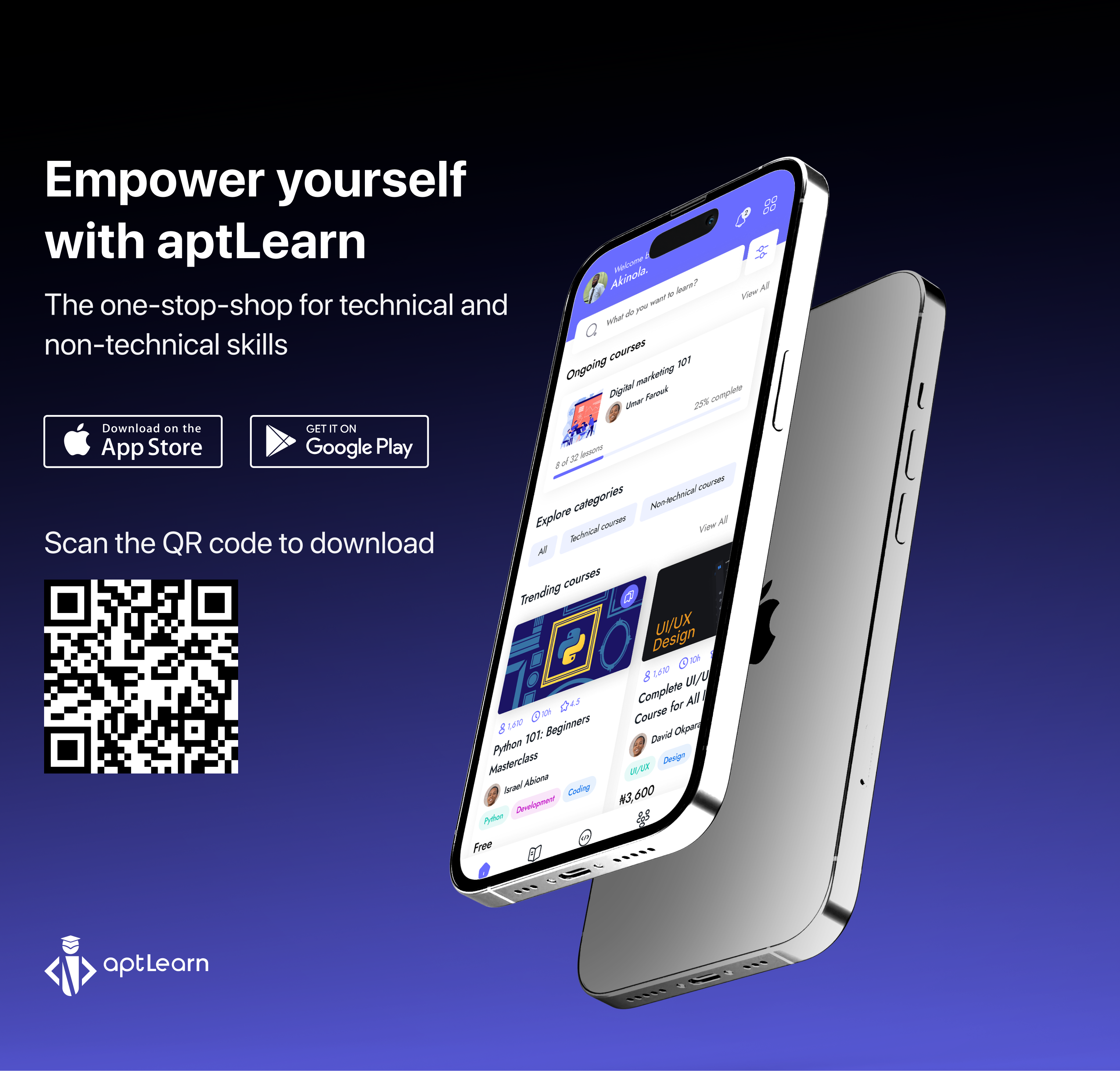 With the App, users can take their courses, track their progress, engage and interact with instructors and other students, as well as receive first hand support; all from their mobile phones, while saving time and costs. This will not only make learning more engaging, convenient and versatile for our students, but also improve productivity and outcome.
User-friendly and easy to access, the new App will help over 500,000 people access universal, and affordable skills-based online education by 2024. 
Learn, Upskill, And Connect – All In One App
Now that we are mobile, you can do the following with the new aptLearn Mobile App:
Get Started In Minutes
Create a free aptLearn account and start learning all from your phone in minutes. All you have to do is sign up via email or phone number to create your profile and start using the App.
Personalized Student Dashboard 
The aptLearn Mobile App simplifies your everyday learning process. Here, you can edit your profile information, view all enrolled courses, jump back into a course where you left off, and/ or access any earned certificates.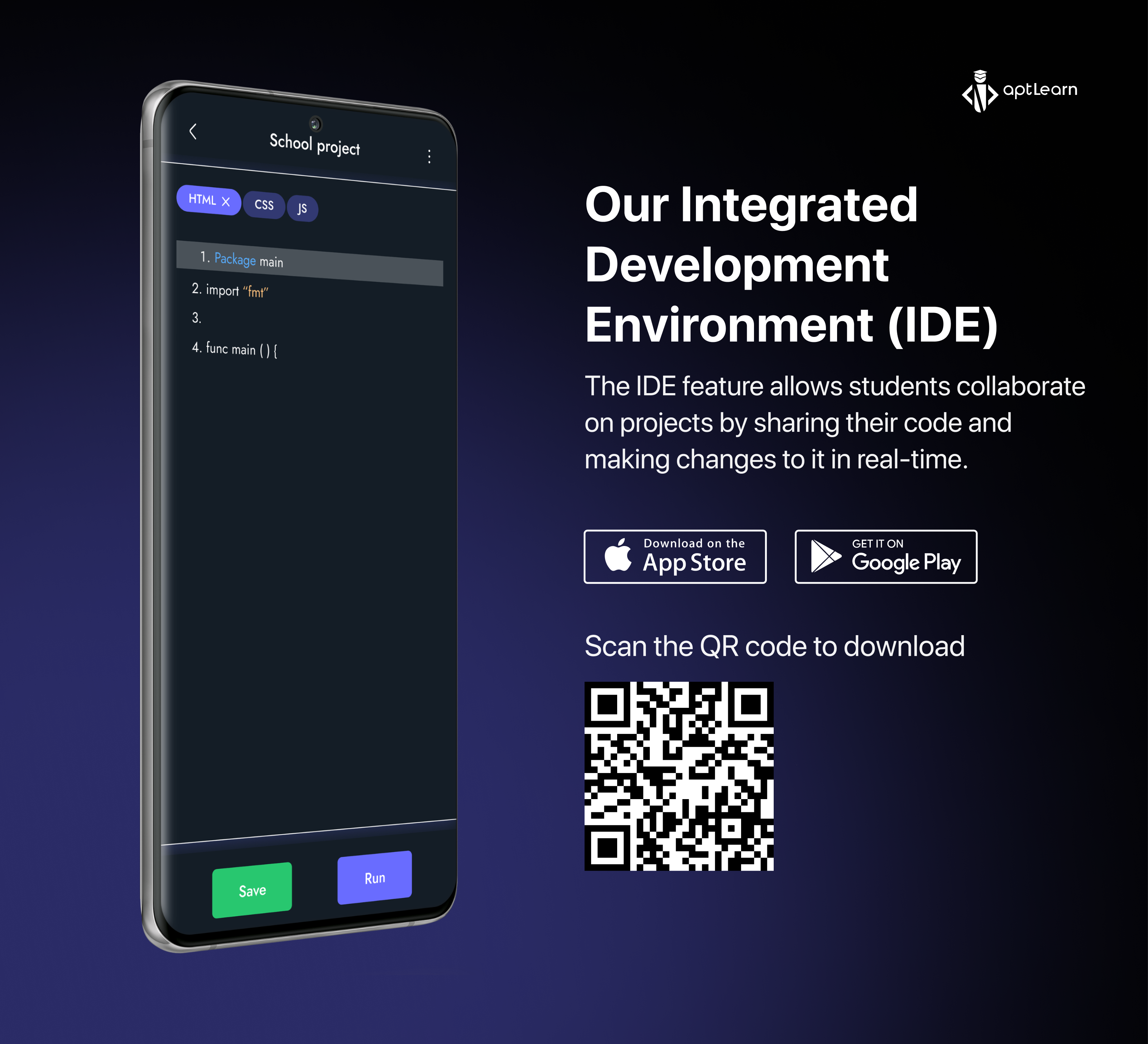 Access To A Robust Course Library
Taught by industry experts, aptLearn offers a robust and diverse course library without any restriction, from software engineering, product, design, cloud, data science, and much more. This feature allows you to find desired courses, learn about course instructors, and view course programs, prices, reviews, and other details.
Pay With Ease
While most courses on aptLearn are free, some are not free to access. With a secured payment gateway platform integration, this feature allows you to pay for your courses with no stress, all from your mobile phone, at any time, any place.
Download Certificate
At the end of a course, not only have you learned something new, but you have an awesome Certificate of Course Completion to show for it; all of these, without obtaining a college or university degree. This innovative App makes it seamless to complete your courses, download your certificates, or make changes on the name appearing on your certificate. 
Read Industry News & Insights
The blog area on the aptLearn mobile App allows you to have easy access to latest tech news, tips, insights, and educational technology content geared towards informing and helping our students stay up-to-date.
Connect & Interact With Other Students
With the app, you can now become an active member of the aptLearn User Support Community. The support group becomes easier to access and navigate. This feature allows you to directly engage and interact with other students, ask questions, share your learning progress, as well as build a profile that exposes you to opportunities from potential employers. 
Get Instant Support
What's more important to us than keeping our users satisfied. If you ever have questions, suggestions, or complaints, help is only a few taps away. The in-app support feature allows you to get instant support using our Knowledge Base Center, and/or chatting with the aptLearn Support team, all right from the App.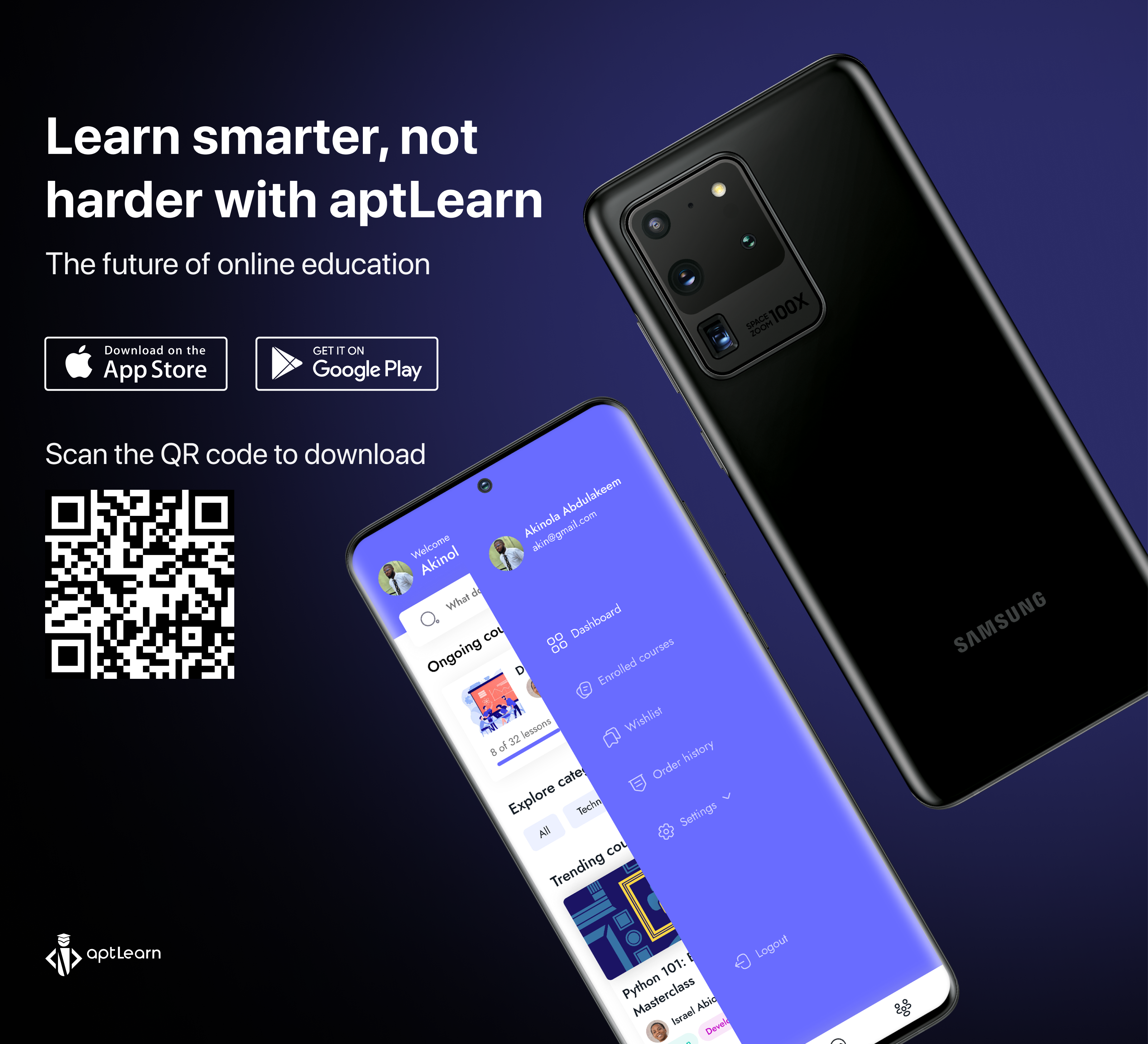 Download aptLearn, Learn With Ease!
The aptLearn Mobile App is available on Android and iOS.
Visit https://aptlearn.io/apps/ from your mobile phone to download now.